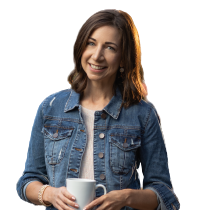 Leanna Stein
Mortgage Advisor
NMLS# 1992771
Cell: (404) 645-0878
231 S. Village Sq
Canton, GA 30115
For 7 years I helped wake up North Georgia as one half of Rise & Stein on Victory 91.5. I loved our time on the radio and I love helping people! Now I get to do that one-on-one with homeowners and future homeowners. My vision for what I get to do is to get a full picture of your goals and dreams, and then tailor your loan to fit those goals and dreams. For me, it's not about rates and payments, but what is the best product for you. I take a holistic view and work with your Realtors, wealth and financial advisers and insurance agents. Many homeowners never had someone sit with them and walk them through what is available to them. So I get to know you, spend time creating your financial strategy, and laugh and cry with you. At the end of the day, I want a relationship with you, the Realtors I work with, and with our closing attorneys.
From new mortgages to refinancing on existing homes and investment properties, I have worked with clients in many areas including Woodstock, Canton, Roswell, Alpharetta, Cumming, and properties at Lake Arrowhead, Lake Lanier and Lake Oconee.
One of the keys to my relational approach to mortgages is I AM ACCESSIBLE TO YOU 7 DAYS A WEEK! I will work with the Realtor and client to make sure that when you are ready to make an offer, everything is ready to go!
A new mortgage or a refi is one of the biggest and most important decisions you will ever make. I will be there for you as questions arise, and make your experience one that will be a sweet memory.
I love serving at Revolution Church wherever I'm needed. I have helped lead three tours of Israel and hope to return soon. Over the years, I have spoken at several metro Atlanta marriage conferences and lived in China where I taught preschoolers English. I love rescuing animals and I LOVE dogs, including – most of the time – our two Chihuahuas, Pickles and Pretzel. And when fall comes, everything turns orange and purple for this Clemson football fan!